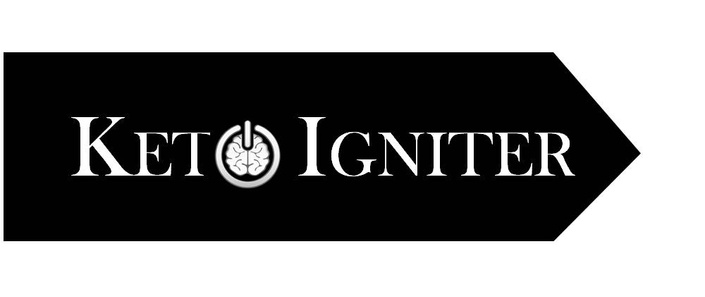 The Keto Igniter Course
The Easy and Scientific Way to Succeed on a Ketogenic Diet
The Easy And Scientific Way To Finally Succeed On a Ketogenic Diet - Even If You Have Failed On Other Diets Before
Hi, I'm Chett Binning.
A nutrition and health coach with a Masters in Neuroscience who has helped NHL prospects, top-level athletes, but also everyday people (from nurses to firefighters to office workers...) reach a new level of peak performance.
First off, please allow me to make some assumptions about why you are here:
you've experienced a lack of energy lately
you've got excessive belly fat you would love to get rid of
you have to deal with constant brain fog
you suffer from anxiety, stress or depression
you don't wake up in the morning feeling refreshed
you have a craving for carbohydrates and salt
you just feel out of shape and not healthy
Wanna know a secret?
The majority of people in the western world are dealing with some of those issues everyday. Chances are, that you are also experiencing a few of these symptoms. Maybe you feel out of shape. Maybe you noticed that your energy levels decreased. Maybe you even suffer from anxiety or depression.
But this does not have to continue.
There is a way out and it's called Ketogenic diet.
I am sure you have heard of a Keto diet before. It makes use of a survival mechanism called Ketosis. The benefits of a Ketogenic diet are:
improved sleep
no more brain fog
decreased hunger
improved cognitive abilities
very easy to burn stored body fat
reduction in inflammation
higher, consistent energy levels
improved overall health
In other words: following a Keto diet can get rid of a majority of our current generation's health problems. Which means it can get rid of your problems as well.
In fact, millions of people have used it to transform their life and Keto is now their everyday lifestyle.
There is just one problem: there's too much misinformation out there when it comes to a Ketogenic Diet
This was the motivating force behind me creating the Keto Igniter Course.
During my Master's studies, I learned how to sift through the mounds of data and research out there and realized that a large part of the "common Keto knowledge" is just outright wrong.
There are so many myths out there when it comes to a Ketogenic Diet, that I felt the need to do something about it.
Introducing: The Keto Igniter
In the Keto Igniter online course, I will teach you how Keto really works and give you a step-by-step blueprint that makes it almost impossible for you to fail on a Ketogenic diet.
Everything I teach in this course is based on real science and the result of me studying and teaching this stuff for years.
This is for people who are not only interested in all the benefits a Ketogenic diet can provide you with, but also for people who want to really learn and understand Keto.
This course is for you, if you:
are sick of googling about Ketogenic Diets trying to find answers
sick of dieting. You just want a way of eating that easily fits into a healthy lifestyle
are sick of being misinformed. You want information that is backed by science. Information you can trust.
are less concerned with athletic performance and more concerned with overall health and well-being
want to get rid of brain fog, excessive body fat, low energy levels, gut issues, mood swings and all the other common health problems I have talked about earlier
want to finally start a healthier life with more productivity, more energy, more fat loss and less of all the negative symptoms you have experienced so far.
want a community of other people who are on the same path as you
Let Me Ask You A Question
If you:
Knew exactly how Keto really works
Had a step-by-step plan on how to get started with Keto
Had a complete blueprint that you can follow
Knew exactly how to calculate your macros, eat the right foods and do everything that is necessary
Had the emotional support of other people who are following a Keto Diet
Had 000+ Ketogenic Meal Combinations

Do you think you could succeed on a Keto Diet?
Do you think you would be able to turn your life around and reach a new level of peak performance, both mentally and physically?
I am 100% sure that if all those things are the case, you would succeed.
The Keto Igniter course gives you all of that and much more.
I added 5 valuable bonuses to the course:
BONUS #1: Exclusive Facebook group to connect with other students and support each other. This is also the place where I will personally address all the questions you have regarding Keto.
Value: priceless
BONUS #2: Macro Mentorship
Value: $49

BONUS #3: Keto Igniter Workbook
Value: $19

BONUS #4: 5 Step Mindset Method
Value: $19

BONUS #5: All my ebooks (incl. Ultimate Fishoil Buyer's guide, Grass-fed meat buyer's guide, cholesterol guide, and more)
Value: $59
The first students already enrolled and are on their way to change their lives forever. Some of the beta testers already have amazing things to say: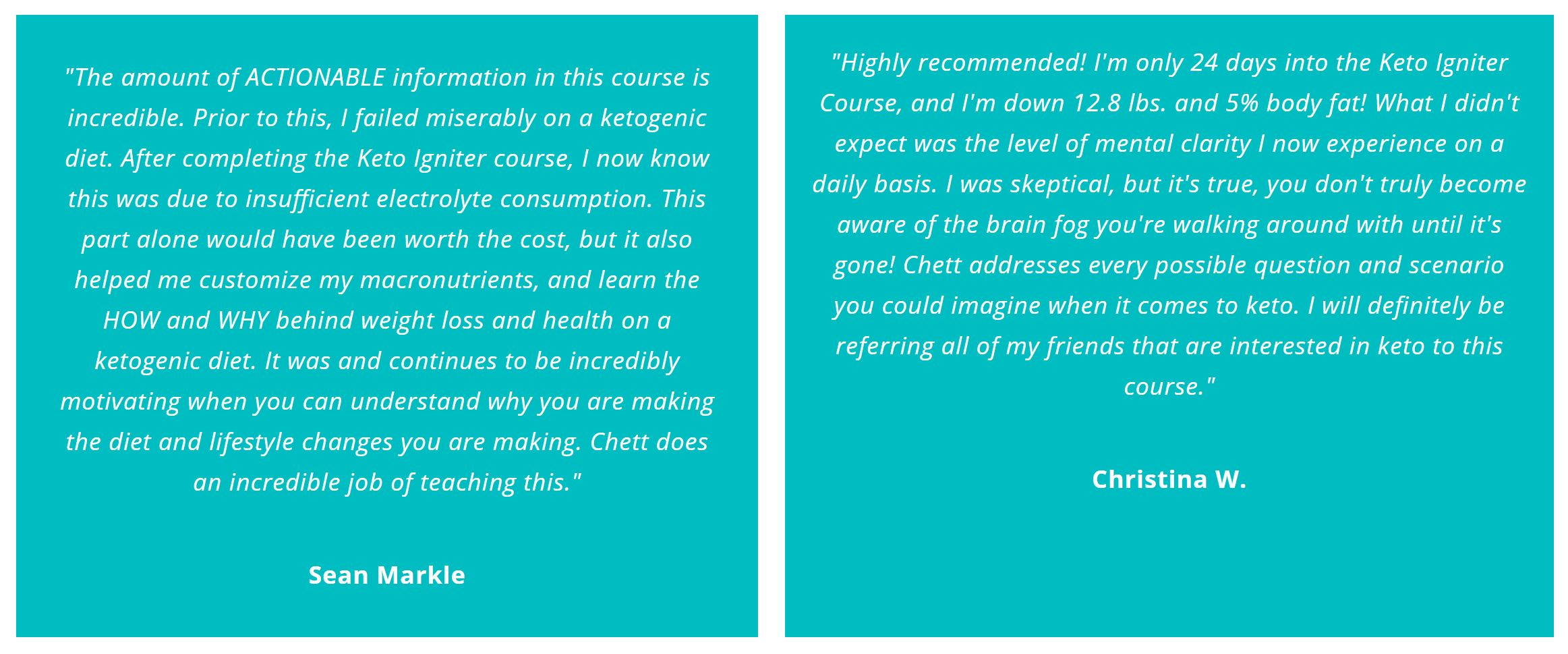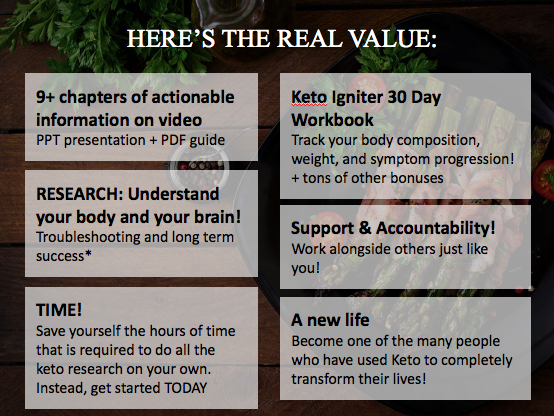 Frequently Asked Questions
When does the course start and finish?
The course starts now and never ends! It is a completely self-paced online course - you decide when you start and when you finish.
How long do I have access to the course?
How does lifetime access sound? After enrolling, you have unlimited access to this course for as long as you like - across any and all devices you own.
What if I am unhappy with the course?
We would never want you to be unhappy! If you are unsatisfied with your purchase, contact us in the first 30 days and we will give you a full refund.
Your Instructor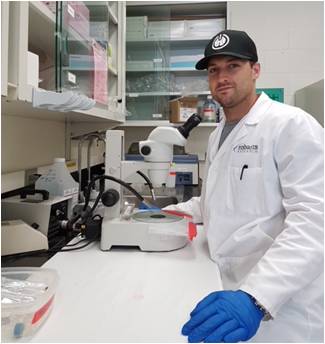 Chett has a Master's in Neuroscience, and is the founder and Head Nutrition Coach of Brain Ignition. His company provides advanced nutrition coaching & consultation to athletes and health savvy individuals wanting to optimize their overall health.
The Keto Igniter Course is Valued at Over $300! Get In Now For Only $199!